Are you looking for a fun activity for your kids this Spring Break? If so, an escape room might be the perfect activity for you and your kids. In this article, we will explore the four reasons why you need to bring the kids to an escape room this Spring Break.
WHAT IS AN ESCAPE ROOM?
Escape rooms are a type of gaming and social activity that is taking the world by storm. The rooms are filled with a variety of puzzles, tasks, and challenges that you need to solve in order to, well, escape the room! Escape rooms are a unique experience that can be enjoyed by people of all ages. If you are looking for a fun and exciting way to spend some time with the family this Spring Break, then planning a visit to HintHunt Canada with your children is the perfect solution.
HOW OLD DO YOU HAVE TO BE TO PLAY IN AN ESCAPE ROOM?
Escape rooms are for everybody! Escape rooms aren't for problem-solving adults or curious kids, but both. There are many adults who come to escape rooms with their kids.
Escape rooms are a great way to spend time with the family and get everyone involved. There are different types of rooms to choose from, some might be better suited for kids than others. The Zen Room is perfect for the young or old Japanophile, while the Submarine DeepDown's immersive setting flashing lights might be better appreciated by the Captain Ahab of the family.
Our company policy is the following: "Our minimum age requirement is 14 or older, anyone younger must be accompanied by an adult." Families are welcome to enjoy the escape room together! There is a room for everyone, and all ages are welcome to enjoy HintHunt Canada's escape rooms right by Square One.
4 REASONS TO BRING THE KIDS TO AN ESCAPE ROOM
The escape room trend is gaining momentum in Mississauga with more people opting to go for a fun evening of adventure. Many people are looking for a fun activity for their families and friends to do during Spring break. Not only is it a great activity for kids, but it is also a great way to bond with your loved ones. Here are four reasons why you should bring the kids to an escape room this Spring break.
1. ESCAPE ROOMS ARE AN INTERACTIVE ACTIVITY
Unlike going to the movies as a family activity where the viewer has no input, escape room games are fully interactive. Given the popularity of phones, television, and screen time, its important for kids to enjoy mentally stimulating, interactive, and social activities – escape rooms are the perfect fit!
2. YOU WILL CREATE AMAZING MEMORIES
There is nothing like your first escape room experience. The stimulating and immersive environment combined with the action-packed flow of the room is a treasure chest for building family memories. Make Spring break as memorable for your kids as possible by taking them to an escape room!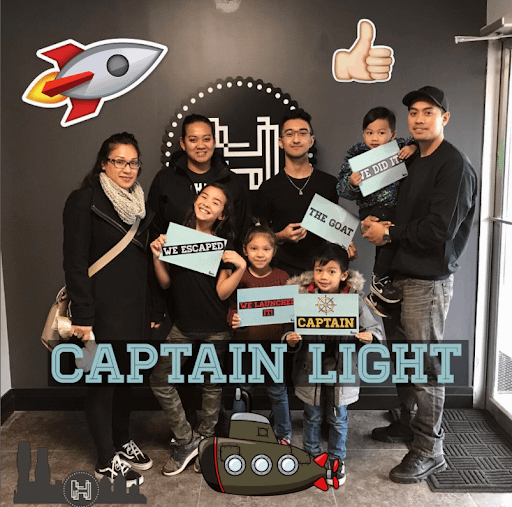 3. IT WILL TEACH KIDS TIME MANAGEMENT
Discipline and time management are critical skills that children must embody to ensure productivity and success in the future. Managing time is one of the core goals of the escape room experience. When the entire family is locked in our captivating room sets like the Submarine, it's extremely important to manage time appropriately in order to come out of the room successfully. Getting distracted by the awesome props and the flashing lights is easy, and staying on task is key to winning the game, making time management fundamental to ensure victory! Win or lose, kids that get a chance to play an escape room game will definitely leave with a valuable lesson on time management.
4. IT WILL TEACH KIDS TO WORK TOGETHER
Teamwork makes the dream work! In life and escape rooms, this phrase rings true. Once in the room, there are several clues and elements that come into play. The delegation, communication, and trusting your teammates are so important in achieving the objectives in-game! Rooms are made for teams and families to work together by design; teamwork is non-negotiable. This Spring break, make sure your kids get a chance to work together with their parents and siblings to win an escape room game and learn the value of teamwork!
CONCLUSION
For parents, Spring Break is a great time to get some much-needed family time. But, sometimes, it can be hard to find new things to do with the kids. This year, why not try an Escape Room? It is a great way to get out and have some fun while the kids are busy having fun. You can enjoy the company of your family and friends while you compete with one another to escape the room. There are a lot of reasons why you should bring the kids to an Escape Room this Spring Break. We hope to see you at HintHunt this Spring Break!