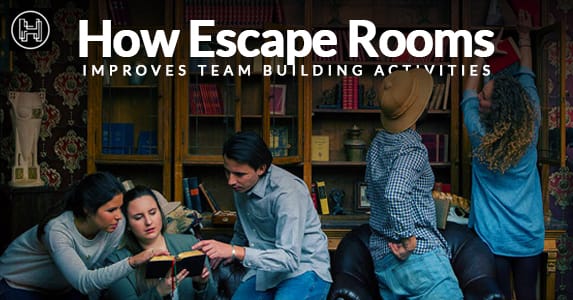 Unity Is Strength! This saying says it all when we think of a team. Team building demands most of our positive energy to not give up and work together as a full-spirited squad to meet the deadlines. A team consists of a diverse group of people that are entirely different from one another in terms of cultural values, traditions, norms, and mindset. Diversity encourages variations in working styles that are so supportive for advanced work deliveries.
A team that sets an example is the only one that works on the improvements of their team-building activities. Team building activities provoke the members to know each other better, enhance mutual understanding, and their working capabilities in a fruitful manner. Team building activities exceed the expectation of wonderful achievements in professional life like every workplace has a team of employees and then a separate group of friends, neighbors, and cousins have a bond.
We all like to enjoy escape games and usually turn our spare time into unforgettable moments by playing them. Escape games unify the team and promote the fun in an extra glorious way. Escape games are like a cool breeze in a scorching daytime. When we are tired from doing work or from studying, switch on to escape games of whatever domain like in-person or virtual.
Escape games became an entertainment sensation in the past few years. If people want to celebrate or want to spend some quality time with their teammates then escape games are an exciting adventure to pick and play.
ESCAPE GAME TREAT
When your colleagues and friends want a treat from you, replace the food treat with some escape gaming dose. Yes, you read it right. This has become the thought of millions of game lovers globally now. Escape games bring this change in trend, where now your friends want a gaming treat from you. Escape games transmit lively energy that helps to avail strong bonding among team-mates. Strong bonding helps to increase mutual understanding in terms of reliable team building.
BETTER STORYTELLING TEAM
Escape games keep you engaged with your teammates for one hour. During this time period, you will go through so many hints, clues, and puzzles to complete the tasks of the game and find clues to escape the room. The challenges you face with your teammates add to your experience and after ending the game either you win or lose, you have an interesting story to tell others about your gaming experience. For strong team building, it is necessary that you have memories together that shapes you and your team with better storytellers. Your gaming story convinces other teams to come forward and make their own story as well.
KNOW YOUR TEAMMATES A LITTLE CLOSER
Judgments are not allowed when it comes to the aim of lifelong team building. Considering your teammates as your friends is the primary step to enjoying the gaming adventure to the fullest. So while playing, concentrate on the suggestions and directions your teammates tell you, so next time while playing an escape game you and your teammates know each other's mindset well.
STRENGTHEN FAMILY TEAM
Quarantine of 2020! A life with no gatherings, no fun, and no adventure. Only video calls, voice calls, and messaging limited our fun to a high degree. To strengthen the immune system, we take a proper and nutritious diet as prescribed by medical experts but for mood-boosting and relaxation online escape rooms games were proved the best choice for every age group. Online escape room games came up with the brilliant team activity that fostered family bonding and enhanced the friendly environment among all.
TIME CONSCIOUSNESS AND MANAGEMENT
Punctuality – A habit opt by few but loved by many. Being punctual regarding working timings at work gives a good impression on your image. Similarly, while you are playing an escape game whether it is online or in-person, you are given limited time to resolve all tasks and then escape a room. Time consciousness and the importance of time management improve when you play at least once a week an escape game with your teammates. Escape room gaming builds a strong team that is both active and conscious regarding their precious time.
To improve team-building activities, escape room games enlighten the new versions of spending quality time with your team members. The above-highlighted ways that outshine team building activities at an extraordinary level show us the prominent side-effects of escape gaming on boosting team building activities.