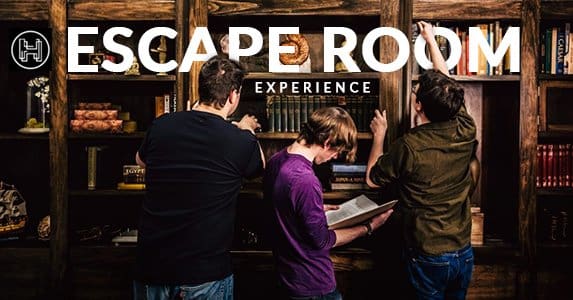 Experiences shape the world for you in different ways, they are something worth having if you want to gain new insights and to look at the world from a broader sense of vision. It opens up the path of new knowledge, entertainment, and gives you a chance to live life from your perspective. 
We can have many reasons to experience something new in terms of our likes and dislikes, needs of the hour, and our obsessions towards some specific things.
Escape room has the best entertaining approach to experience while making people curious to know how they feel after experiencing the sensational period of 60 minutes gaming.
Escape room fun-filled experience is not something easy to describe due to its exciting various theme-based gaming rooms, it seems hard for people to select the theme at first. Secondly, after the beginning of the game, the selected theme's fascinating vibe motivates them to come again and try other themes as well.
Escape room gaming empowers your skills of storytelling. The story of the gaming period will be different for everyone, depending upon the emotions they felt while playing.
Gaming tasks can be interesting, tough, mind-boggling, and tricky at the same time. It depends on the players how much and in what terms they enjoy the game and how many things are latest for them both emotionally and mentally.
Diversity leads to the good performance
Escape room gaming facilitates the players with a new experience that is excessive diverse social interaction. Diversity is such a great thing to experience it shows you the thinking and lifestyle of such people that are different from you. This is so useful, to build healthy public relations bridges among players. It builds the path of mutual understanding among players which is bright for their winning performance.
Host an Escape room birthday party
Birthdays have an exceptional significance in everyone's lives. Planning your birthday celebration is special so it needs a special ambiance and theming to go perfect. The escape room enables you to organize your desired theme birthday party there and give your pictures an outstanding touch of adventurous experience. You can be with your friends, family, and colleagues to actively participate in escape room gaming on your birthday!
Escape room gaming, A break from studies
Escape room gaming sheds light as a break activity from your hectic study routine. Pandemic makes it heavier for students to manage time to fresh up and to eat on time as well. It minimizes the outdoor activities as students have to attend the lectures online, submit their homework before the deadlines, and prepare for exams through online assigned notes and pdfs.
In this tiring situation, an online escape room is an effective solution for students to take a break of 60 minutes to refresh and energize themselves. They can play the game with their friends or solo, whatever suits them best.
Traveling better with escape room gaming
Going somewhere and wanting to make your traveling journey interesting and thrilling? If yes, then you must try escape room gaming to pair yourself with the best travel partner. It vanishes the boring feeling and improves your mood. If you are traveling alone, then spending the hours of the journey is a big deal to carry. 
Escape room gaming keeps you entertained throughout your journey and helps to eliminate the feeling of loneliness. After reaching your destination, you have an experience and a cheerful story of playing to tell others.
Escape room and the spirit of mission accomplishment
Missions are only accomplished when you're focused and determined. Escape rooms direct you to level up a spirit of mission accomplishment, by playing on the variety of themes you can balance the game stress properly. The Spirit of mission accomplishment is a golden characteristic that identifies the solution of challenges quickly and easily.  
When you're thinking out of the box and performing out of your comfort zone, surely you will escape a room in the required time. All of a sudden, hurdles will make your experience stressful and full of hassles. But the secret of winning an escape room game is perseverance. All you need to do is concentrate and play the game to the fullest. 
The growing culture of escape rooms around the globe makes it obvious for everyone to try to escape from at least once. As the world is facing numerous challenges in terms of food security, malnutrition, gender discrimination, poverty, and lack ness in sustainable living culture.
Escape rooms bring entertainment back to us with their exciting puzzle-solving games, by playing them we can surely escape all of our worries for a while.